Do I have to be a certified in yoga to teach using this mat?
Because students using the mat will most likely be physically or visually challenged, we suggest that instructors be familiar enough with yoga to enable them to adjust postures as needed to accommodate their students' needs. We also encourage instructors to learn more about which postures may be more appropriate given certain physical conditions. Some of this information is contained on our DVD series, or you may invite Tracy to visit your studio for a demonstration.
Is the VIYM® yoga mat only intended for use in yoga classes and studios?
VIYM® can be used anywhere you practice yoga: in physical education classes, in rehabilitation facilities, at home or in a yoga studio.
Is this mat designed for a particular style of yoga?
This mat is designed to improve posture alignment and build confidence for Kripalu Yoga Postures, specifically. However, any discipline of yoga can use this mat after reviewing the "Notice & Precautions", and "Description of the Mat" sections of the instructional DVD.
Are there classes for interested instructors?
We periodically hold classes in different cities for people who are interested in learning how to use the mat to its greatest advantage. Contact us and we'll let you know if we are coming to your area or check our News & Events section.
Do you do demonstrations at schools for the blind or centers for the elderly?
We definitely do demonstrations and would be pleased to work with you to arrange one. We have already visited several schools for the blind where we received an enthusiastic response from students and teachers alike. Contact Tracy directly at TLC@rousettus.com or 1-866-990-VIYM (8496)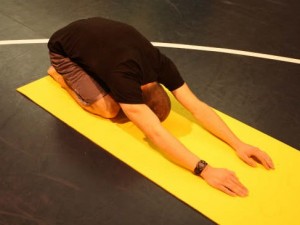 Do I need to have practiced yoga before in order to use this mat?
No. The DVD explains in great detail how to do yoga postures with the use of the three dimensional mat. What VIYM® will do is accelerate your learning curve. You will find that you will be able to practice yoga more proficiently sooner.
Do I have to be blind to use it?
No. Although VIYM was created for the blind and visually impaired, the features on the mat are useful to sighted beginners, seniors, and for those requiring additional tactile reference such as ADD, ADHD, and Dyslexia. Tactile features on VIYM® permit proper alignment and a self check for fine tuning posture alignment. It is a great way to learn how to do the postures correctly from the start.
Can I do this alone?
The instructional DVDs are designed to enable yoga to be practiced independently. For a visually impaired or physically challenged person, it may be helpful to have a sighted person available during the first run through with the DVD. They may be able to assist in answering any questions and positioning you on the mat.
How many instructional DVDs are there?
We are currently offering two DVDs: Basic 1 and 2 Series. Each DVD leads the student through centering and pranayama, warm-ups, a posture sequence and guided relaxation over a period of about 50-60 minutes. These DVDs will be made available for the deaf in a version that will include signing.
Going forward, we plan to offer a Moderate series, containing more complex postures and sequences that allow students to continue to grow in their practice.
How difficult is the mat to transport?
The mat is very portable and comes with its own carrying strap. It can be rolled or loosely folded to transport to a studio or be stored at home or school. A thoughtfully designed Rousettus® bag, made of recycled materials and large enough to include a water bottle, can also be purchased from our website.
Does VIYM® come in any other colors or lengths?
VIYM is currently only available in yellow. Designed for users of average height (5'3″ or taller), it easily accommodates those who are shorter or taller by simply adjusting their stride. Our plan is to eventually add to the color and length offerings, for example, providing shorter mats for children.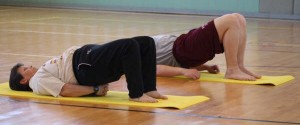 If I find a Rousettus® product to be unsatisfactory, can I return it?
We believe in our products and want you to be delighted with every purchase. We will work with you to ensure your complete satisfaction. Unfortunately, due to health regulations we cannot accept VIYM® returns. We cannot accept returns on the DVDs once the seal has been broken.
What is the return policy?
If there is a defect in any of our products, we encourage you to contact us immediately. We will replace the item of concern. You may return defective items within 14 days to:
Rousettus Returns
c/o Courtney Hall
P. O. Box 343
Burlington, VT 05452
Please enclose the packing slip or email confirmation with your return, along with an explanation of why you were disappointed with our product. We recommend that all returns be sent by a traceable method: for example UPS, FedEx or insured through the US Postal Service.
Can I purchase a Rousettus® product for delivery outside the United States?
At this time, we only ship to the United States, its territories and Canada. If you would like to purchase products outside of the US, its territories and Canada, please contact Courtney at tlc@rousettus.com.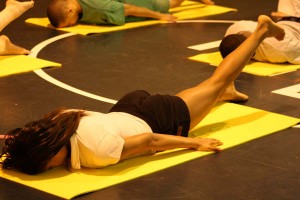 Does VIYM® come with a warranty?
Rousettus® products are made with the utmost care. However, should something happen to the mat within 6 months, you need to return the defective mat to us, along with an explanation as to what happened so that we can continually improve our products. We will refund your money or exchange it for another mat, no questions asked.
Do you charge sales tax?
If you are an individual and live in the state of Vermont, you will be charged 6% sales tax.
If your organization is a school and tax exempt, there is no sales tax. Please contact Courtney Hall or call us at 1-802-557-1600 to place you order.
If you are a tax exempt organization in the states of VT, please contact Courtney Hall or call us at 1-802-557-1600 to place you order.
What payment options are available?
Purchases can be made by credit card (VISA, MASTER CARD, AMEX, DISCOVER) and securely paid through PayPal on our website.
If you are a school, purchase orders are accepted by contacting Courtney Hall directly at 1-802-557-1600.
Are there discounts available?
If you order 6 or more mats or DVDs at a time, there is a 10% discount, which is calculated at check-out.
Is this a 'green' product?
Due to the particular nature of the product, the mat itself is not 'green', but the carrying bag which we sell on our website is made from recycled materials.
How do I care for my VIYM® mat?
Your mat can be cleaned with a damp cloth, cleansing wipes or submerged in a bathtub. Do not use any harsh abrasives, oils or solvents. Hand dry or and lay it flat to dry. Do not use it until it is dry, as it can become slippery.
What does 'Rousettus' mean?
Rousettus is an Egyptian fruit bat. It was chosen as the company's name because bats have special significance. In China they symbolize happiness and long life. To the ancient Mayans, bats symbolize initiation and rebirth. Sometimes bats are a symbol of facing our fears.
Bats also play a valuable role in nature and are the only flying mammal. They symbolize promise amidst the chaotic energies of change and reflect the ability to move to new heights with transitions.
Bats are not blind and can easily navigate by sight and through the dark with the use of sonar. They have 'clear hearing'. This hearing awakens the ability to hear the spirit and to discern the truth in other people's words.
The bat represents powerful medicine. It can be trying but it always indicates initiation – a new beginning that brings promise and power after changes.
That is the promise of Rousettus LLC as well: to enhance the lives of others, bringing them to new heights of self-awareness and self-confidence.
Adapted from "Animal Speak, The spiritual and magical powers of creatures great and small"
Author Ted Andrews